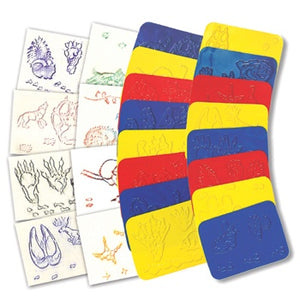 Item#  KW_R5837
Animal track rubbing plates are versatile and fun for art, design, science, geography and much more! Add texture to artwork by placing paper over a plate and rubbing with a crayon, marker or pencil to make the design emerge. Layer designs for more effects. Fill with or press into modeling clay. Great with paper mâché.
Assorted pattern includes: deer, weasel, beaver, bobcat, rabbit, opossum, otter, mountain lion, squirrel, skunk, raccoon, duck, turkey, timber wolf, dog and cat
16 plastic rubbing plates, 4" x 5" (10 x 13 cm).
For ages 4 and up.